...for the Military
UK Gear's training shoes were originally designed in association with the Royal Army Physical Training Corps (RAPTC). These elite fitness professionals were closely involved in the development and tested our products in some of the most inhospitable conditions on Earth. Only when approved by the Military do we consider our products... Built to survive.
GT-02 - Ultra Fit Magazine : High impact exercise shoes
>>31 March 2008
---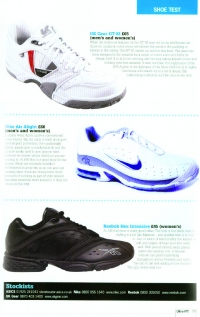 UK Gear GT-02 £65
(men's and women's)

While the technical features on the GT-02 may not be as well known as those on display in other shoes we believe the proof of the pudding is always in eating. The GT-02 stands up well on this front. The shoe has been designed brief. It is at twisting and turning, taking impact forces and holding your foot securely. It may not have the suppleness of the KFS Agility or the lightness of the Shox OGE but it is highly functional and stands up to a lot of abuse. The cushioning is effective and the grip works well.
---
---
---
---
---
---
---
---
---
---
---
---
---
---
---
---
---
---
---
---
---
---
---
---
---
---
---
---
---
---
---
---
---
---
---
---
---
---
---
---
---
---
---
---
---
---
---
---
---
---
---
---
---
---
---
---
---
---
---
---
---
---
---
---
---
---
---
---
---
---
---
---
---
---
---
---
---
---
---
---
---
---
---
---
---
---
---
---
---
---
---
---
---
---
---
---
---