...for the Military
UK Gear's training shoes were originally designed in association with the Royal Army Physical Training Corps (RAPTC). These elite fitness professionals were closely involved in the development and tested our products in some of the most inhospitable conditions on Earth. Only when approved by the Military do we consider our products... Built to survive.
PT-03 DESERT - Zipper Quigley
>>11 February 2009
---
I was approached a couple years back by UK Gear to test out their original road shoe and they must have liked how I approached testing their gear, so I was tagged again by them this year when they released their new offerings; the PT-03 Desert shoe and the PT-03 Winter shoe based on the type of training I was doing, I opted to give the desert shoe a spin.
The shoe boasts some great features for people running in hot, arid and off-road conditions. From a gum outer sole to a bruise plate and sand-proof construction, they claim to have thought of everything that would become an issue when running in the desert.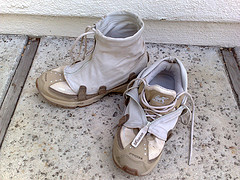 The pair I received came complete with a set of gaiters that have a native attachment to the shoe. The loop/velcro setup for the gaiters was a nice feature and I was quickly impressed with the thought that went into constructing the shoe.

Typically, when i trail run, my socks will come back completely brown from the dust and sand I encounter; as i tested these shoes out, i thought i'd give their 'sandproof' claim a real test and wear only brand new socks with the shoes.
With my first run in the shoes, I had a couple quick observations. First off, the shoes were a little heavier than what I was used to wearing on the trails, but within the first mile, that wasn't even a thought that crossed my mind. Second, if I decided to continue using the gaiters, I would have to switch to a calf-high sock rather than the ankle-high socks I currently own as the drawstring on the gaiters was rubbing my shin raw.
Before long, though, I didn't even notice the shoes.

And for that matter, I didn't notice the trail, either. The tread on the shoes doesn't look near as aggressive as that of my other trail shoes, but I never had an issue with traction; whether on loose footing like sand or gravel nor on rock or sandstone. the gum outsole really gripped well and showed little wear. in addition, I felt very little of the rocks that I would run over. Sure, I felt them, but I didn't "feel" them. The bruiseplate really lived up to it's claim.
Unlike some shoe reviewers, I like to spend at least 100 miles in a shoe before I weigh in on how well the kit performed. After copious moderate distance trail runs and a handful of longer distance routes, i'm happy to say that i'm very pleased with how well the shoe has lived up to it's claims. Not only have my feet fared very well in the comfort arena, but I have had sure footing, decent foot temperatures and best of all, those brand new white socks?.....

.....Still white. sandproof, indeed!
If you're in the market for a shoe that will perform well in hot, arid trail conditions, give the UK Gear PT-03 Desert Running shoes a try and you'll have white socks too.
Source: www.breakingthetape.com
---
---
---
---
---
---
---
---
---
---
---
---
---
---
---
---
---
---
---
---
---
---
---
---
---
---
---
---
---
---
---
---
---
---
---
---
---
---
---
---
---
---
---
---
---
---
---
---
---
---
---
---
---
---
---
---
---
---
---
---
---
---
---
---
---
---
---
---
---
---
---
---
---
---
---
---
---
---
---
---
---
---
---
---
---
---
---
---
---
---
---
---
---
---
---
---
---