...for the Military
UK Gear's training shoes were originally designed in association with the Royal Army Physical Training Corps (RAPTC). These elite fitness professionals were closely involved in the development and tested our products in some of the most inhospitable conditions on Earth. Only when approved by the Military do we consider our products... Built to survive.
PT-03 DESERT - Trail Running Soul
>>17 November 2008
---

Having read a review about the PT-03 I felt it may be the ideal shoe for multi stage desert racing, but, as I always prefer to try things for myself before recommending (or otherwise) to clients I contacted the distributors, UK Gear with a number of questions.
They replied and also supplied my size with both the short and long gaiters designed to go with them.

The shoes arrived and looked pretty good. The information labels were informative and I quote; "The running shoe was built to survive the world's most arid terrain. The PT-03 DESERT has a tough sandproof upper with optional detachable gaiters and a midsole designed for high temperatures. (optimal temp range +25 to +50C/+77 to +122F). With its heat resistant gum outsole and bio-flexible underfoot bruise plate, this extreme running shoe will keep you running safely and comfortably through the hottest of environments".


As the shoe was developed in association with the British Army Physical Training Corps, for use in places like Iraq and Afganistan, and carries the Armies crossed swords trademark, I thought at first that it may be an overspec'd heavy work shoe for the troops to wear around the base. In fact it turned out to be very light, instantly comfortable and more than adequate for what I expect it to be used for, eg. multi-stage, desert ultra running races. Unfortunately, at the time of writing, it is November and even in Andalucia it isn't going to be as hot and sunny as it is in the summer, however it is still pretty warm and so a few test runs were made.

I wanted to gauge the shoes suitability for actual racing so after a day wearing them and experimenting with sock combinations I hit the trail. I chose a mainly off-road mountain circuit of 15km, this includes a 4km dirt track climb and a rocky, loose 5km descent with an average10% gradient, plus a 2km stretch of tarmac. I started steadily and increased speed mixing in intervals and sprints and covered the lap in 1:27, not too bad for a hard circuit.

The shoes were excellent, no problem with stability despite a thicker than normal sole unit, the sole pattern, which is reasonably aggressive, cleared the olive grove clay very quickly and provided more than enough grip and most importantly my foot didn't move around. It was good that they had 'normal laces' as personally I dislike the thin Kevlar type with a slide gripper. (These slip and you can't vary the lacing pattern to suit individual foot shapes). They also come with a spare set.

The gaiters were very well made but I think they are better suited for military use. The fitting method is unusual as they anchor around the edge of the shoe using Velcro tabs which hook under a stretch band.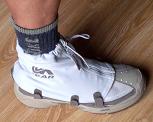 This holds the gaiters in place and a zip up the front closes them with a draw string top finishing the job. Fine for most desert applications and certainly perfect for running on hard, dusty, trails but I don't think they seal tightly enough around the edge to keep out the type of dune sand which is included in many desert marathon stages. The shoes uppers are sandproof but dune sand is so fine it will push up inside the gaiters and then creep down into the shoes. (This can be remedied by adding a Velcro band as used in one or two specific desert racing gaiter designs or by gluing them).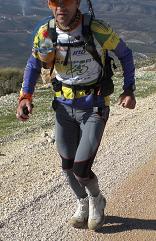 Most of the people who attend our Desert Runner Training Camps are here to prepare for races such as the Marathon Des Sables. For events like this we tend to recommend road shoes rather than trail shoes as increased foot comfort and cushioning is more important than low cut shoes with a grippy sole pattern. From now on our first recommendation will be the PT-03 with an added plus, UKGear also produce a WINTER version.

The PT-03 Winter is built on the same last so swapping from Winter to Desert models won't cause problems and as they are designed for use in wet and extreme low temperatures they are an ideal choice for anyone training in the UK/Northern hemisphere.

A typical autumn and winter prior to going out to Morocco for the MdS or similar early season 'hot race' isn't an ideal way to prepare for high temperature running, training needs to be done whatever the weather and being able to do it in comfort and with dry feet is a welcome bonus.

Sources:
Trailrunningsoul.com
Trailrunspain.com
Teamaxarsport.com

---
---
---
---
---
---
---
---
---
---
---
---
---
---
---
---
---
---
---
---
---
---
---
---
---
---
---
---
---
---
---
---
---
---
---
---
---
---
---
---
---
---
---
---
---
---
---
---
---
---
---
---
---
---
---
---
---
---
---
---
---
---
---
---
---
---
---
---
---
---
---
---
---
---
---
---
---
---
---
---
---
---
---
---
---
---
---
---
---
---
---
---
---
---
---
---
---