...for the Military
UK Gear's training shoes were originally designed in association with the Royal Army Physical Training Corps (RAPTC). These elite fitness professionals were closely involved in the development and tested our products in some of the most inhospitable conditions on Earth. Only when approved by the Military do we consider our products... Built to survive.
PT-03 DESERT / PT-03 WINTER - Light Fighter Tactical Forum
>>23 October 2008
---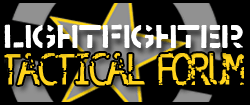 PT-03 DESERT & WINTER Running Shoe



Last month I got a pair of interesting shoes from an outfit called UK Gear.

These are being marketed as a shoe for use during military physical training, so the idea is more or less is that it's a robust running shoe that's not in wild disco colors. When I was talking to the company rep I made it clear that I wasn't particularly interested in running shoes as I really try not to run any more due to the fact that my knees are pretty thrashed at this point in my life. I do however hike and climb mountains. The UK Gear rep said that they'd love to have me take their shoes and see how they'd work out as lightweight hikers. Well, well. ….I'd been wanting to test-fire the concept of using a shoe for light weight hiking and climbing for several years, but honestly the Bates M-6's that I've been wearing are so good that I'd really lost the motivation to try such a thing. Seemed like a good opportunity to kill two birds with one stone, so I accepted the challenge to put the UK Gear product through its paces.

After about 10 years of climbing in the Oregon Cascades and living at about 400ft elevation, I've found that the only way that works for me to train at sea level for mountain climbing is to hump a weighed ruck up and down hills. Enter potential problem number one with using running shoes as hikers. You add the weight of a 50 or 60lb ruck to your weight and the common running shoe, which is very stable and comfortable with just your weight, becomes a fragile mess under the weight of a ruck. If you weigh 160lbs you won't see this problem, but I'm a pretty big guy and weigh between 220 and 230lbs depending on what my diet looks like week to week. So under my 50lb training ruck, my feet are seeing close to 300lbs. To be fair, I told the UK Gear rep all this before I accepted the offer to try out the shoes.




The objective was for me to train with these shoes for several weeks and then take them on a hike up Cooper Spur up on Mount Hood sometime in mid or late September. I wasn't gong to try and summit Mount Hood from Cooper Spur, just hike from the Cloud Cap trailhead up to "Tie in Rock" at about 8000ft and back. Unfortunately there was a lighting storm in the beginning of August that started the Gnarl Ridge Fire. They thought the fire was contained at the beginning of September, but it wasn't and actually burned through the Cloud Cap, Tilly Jane area a couple of days before we were going make the hike. The area's all closed now, probably for the season. So I don't have any cool guy pics of the shoes up on the mountain. What I do have are a couple of pics of them on one of my training hikes and an assessment of how the shoes work under the weight of a ruck.



What they are:

UK Gear "Men's Desert EXTRM" shoes with gators.

The neoprene gator Velcro's into a slick bit of lightweight webbing at the back and along each side of the shoe. It zipps up the middle and has a draw string at the top. Unlike conventional gators there is no bit of cord or strap that goes under the shoe, it's not needed because of the way the gators attach to the shoe. Once you get the whole thing together, which only takes a couple of minutes, it looks sort of …well, I have to say I wasn't too impressed with the look. But the old saying that if it looks stupid but it works, it isn't stupid comes to mind. The gators work as well as any I've used. It's always been a problem for me to walk around in the woods, even on logging roads, in running shoes because of all the debris that finds its way into the damn shoe. With this gator set up the problem is solved.

One of the things that interested me is how heavy they are. Once I got the shoes and gators all put together they actually seemed to have some heft to them. Noticeably heavier than my tried and true ASICS running shoes, and seemingly almost as heavy as my Bates M-6 boots. As my hands aren't NSIT traceable devices for measuring mass, I needed to properly weigh them to make any sort sense of this. Luckily, one of the labs at work had a properly calibrated industrial scale that would be suitable for weighing such things. As it turns out, the UK Gear shoe with its gator weighed 470.2 grams. For comparison, I weighed one of my Bates M-6 boots and it came out to 654.7 grams. As I'm not a cook or a drug dealer, and therefore don't think in grams, I had to convert it to ounces. It turns out that the UK Gear Shoes are about 6.5 ounces lighter (each) than the Bates M-6 boots. That ends up being 11 ounces lighter for the set. Weight off of my feet is a VERY good thing, so I'm starting to be pretty happy about this.

How they worked:

When I first put the shoes on I thought that the heel cup felt a little vagueand that worried me. Turns out that it was just new shoe fluffiness and almost immediately the heel cup made my feet/ankles feel pretty stable. No inclination to pronate or supinate with these shoes. Under a ruck they seem almost as stable as boots in terms of the heel counter. Obviously they have no ankle support, but that didn't really bug me, although it might be a concern for someone who has issues with their ankles.

The shoes have some sort of composite plate underneath the ball of your foot that mitigates the other big-time problem I've had wearing running shoes under a ruck. …Namely that I feel every like every rock I step on is coming through the shoe. That was not the case with these shoes. They didn't have as much padding or isolation from what's underneath your foot as proper boots do, but they did much better than any shoes I've worn.

They fit great out of the box, and that was refreshing as my feet tend to be shaped like …feet. Shoes with a narrow toe box are usually too narrow for me. ASICS shoes have a notably wider toe box and that's what I typically wear. The UK Gear shoes fit just like my ASICS running shoes.

Conclusion:

These shoes seem to be a good compromise between a running shoe and a real deal hiking boot. You can run in them, actually that's what they are designed for, you can hike with them and actually carry a heavy ruck while wearing them. The gators look sort of funky but work well. I've worn them under a 50lb ruck several times and they've worked out great, no problems or drama of any kind. I've also been wearing them to work for a couple of weeks and they are comfortable enough to wear every day. Unfortunately I was unable to test them out in the knee deep scree that is common on the volcanoes around here because my target volcano was …on fire, ironically enough, when that was supposed to happen. If I'm able to get up in the Cascades with these shoes before it starts snowing.




Sources link:
Lightfighter


---
---
---
---
---
---
---
---
---
---
---
---
---
---
---
---
---
---
---
---
---
---
---
---
---
---
---
---
---
---
---
---
---
---
---
---
---
---
---
---
---
---
---
---
---
---
---
---
---
---
---
---
---
---
---
---
---
---
---
---
---
---
---
---
---
---
---
---
---
---
---
---
---
---
---
---
---
---
---
---
---
---
---
---
---
---
---
---
---
---
---
---
---
---
---
---
---