...for the Military
UK Gear's training shoes were originally designed in association with the Royal Army Physical Training Corps (RAPTC). These elite fitness professionals were closely involved in the development and tested our products in some of the most inhospitable conditions on Earth. Only when approved by the Military do we consider our products... Built to survive.
PT-03 DESERT / WINTER - Gadgets Para Correr (Gadgets for Running)
>>18 December 2009
---
UK Gear PT-03 DESERT
La UK Gear PT-03 Desert es una zapatilla diseñada especialmente para terrenos arenosos y áridos (incluído desiertos) con temperaturas muy altas. El rango ideal de funcionamiento de la PT-03 Desert va desde los 25ºC a los 50ºC. Lleva refuerzos en la suela para que no se nos abrase la planta del pie así como en toda la zapatilla para hacerla resistente al rozamiento. Se puede comprar directamente en la tienda de UK Gear por 125 euros.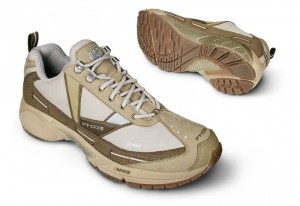 ---
UK Gear PT-03 WINTER
Lo último de UK Gear es la PT-03 Winter, una zapatilla para entrenar en condiciones de frio intenso en caminos o montaña. Diseñada conjuntamente con el Ejército de Reino Unido, su temperatura óptima de uso va desde los -20ºC a los +10ºC, que es cuando la suela se comporta mejor. La zapatilla es totalmente impermeable y la amortiguación más que aceptable. Algunos corredores recomiendan esta zapatilla para correr sobre nieve. Se puede comprar por 125 euros en Amazon o directamente en la tienda de UK Gear.
---
---
---
---
---
---
---
---
---
---
---
---
---
---
---
---
---
---
---
---
---
---
---
---
---
---
---
---
---
---
---
---
---
---
---
---
---
---
---
---
---
---
---
---
---
---
---
---
---
---
---
---
---
---
---
---
---
---
---
---
---
---
---
---
---
---
---
---
---
---
---
---
---
---
---
---
---
---
---
---
---
---
---
---
---
---
---
---
---
---
---
---
---
---
---
---
---