...for the Military
UK Gear's training shoes were originally designed in association with the Royal Army Physical Training Corps (RAPTC). These elite fitness professionals were closely involved in the development and tested our products in some of the most inhospitable conditions on Earth. Only when approved by the Military do we consider our products... Built to survive.
Win a Tandem Skydive with UK Gear and the Red Devils
>>28 April 2011
---

COMPETITION!
UK Gear are proud to announce that the world famous Parachute Regiment Freefall Team, otherwise known as the Red Devils, are the latest elite military team to become fans of UK Gear shoes!
The Red Devils team will be performing at worldwide events during 2011 wearing their new official shoe of choice, UK Gear's PT-1000 running shoe!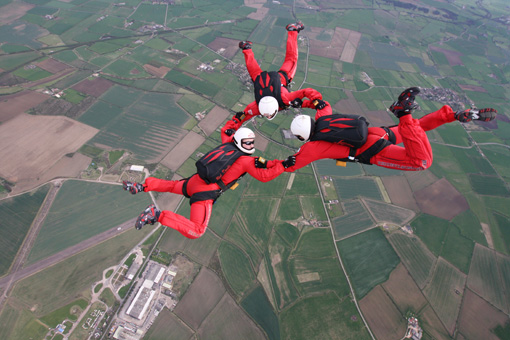 To celebrate, we would like to offer ONE lucky winner the chance to tandem skydive together with one friend or family member with the Red Devils team and jump from 13,000ft at 120 mph - while attached to one of the team's experienced tandem instructors. WOW!

Jay Webber, Team Leader of the Red Devils says "Enjoy the thrill of accelerating from 0 - 120mph in 10 seconds as you freefall from 13,000ft for up to 45 seconds. The 5 minute canopy ride back to the landing area is so exhilarating you'll want to do it all again!"

The prize winner will be randomly selected from our Facebook fan's. If you're not already a fan, simply visit the UK Gear Facebook page and click the 'Like' button. Want to increase your chances of winning? Simply log-on to Facebook and 'Share' this competition posting with your friends. But remember, they too have to 'Like' UK Gear (as well as invite you should they win!)

Good Luck!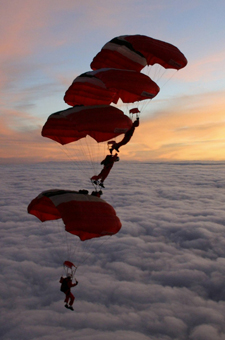 ---
Terms and conditions:
Closing date of the competition is Friday 13th May 2011 and the winner of the two tandem skydives will be contacted via Facebook private message.
Competition winner + one must be able to attend the Red Devils Airfield Camp in Salisbury, Wiltshire UK on the 2nd, 3rd and 4th of August or the Airfield Camp in Langar, Nottingham UK on the 30th, 31st August or 1st September.

The winner + one must be aged between 16 and 65 years old. Those who are over the age of 40yrs will be required to fill out a British Parachute Association Medical Form. A height restriction of 6 feet 2 inches and weight restriction of 15-stone also applies.
---
| | | |
| --- | --- | --- |
| Follow us... | | |
---
---
---
---
---
---
---
---
---
---
---
---
---
---
---
---
---
---
---
---
---
---
---
---
---
---
---
---
---
---
---
---
---
---
---
---
---
---
---
---
---
---
---
---
---
---
---
---
---
---
---
---
---
---
---
---
---
---
---
---
---
---
---
---
---
---
---
---
---
---
---
---
---
---
---
---
---
---
---
---
---
---
---
---
---
---
---
---
---
---
---
---
---
---
---
---
---
---
---
---