...for the Military
UK Gear's training shoes were originally designed in association with the Royal Army Physical Training Corps (RAPTC). These elite fitness professionals were closely involved in the development and tested our products in some of the most inhospitable conditions on Earth. Only when approved by the Military do we consider our products... Built to survive.
News of the World competition 1997/1998
>>01 January 1997
---
KIT'S the competition every soccer fan will want to enter - the chance to win a unique soccer kit for your team.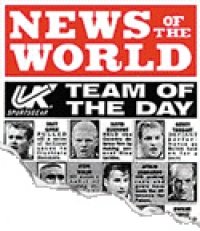 We've teamed up with top British sportswear firm UK Sportgear to provide a limited-edition strip for your team, designed by David Hinde.

Each week, we will give away a full kit - that's shirts, shorts and socks for 16 players - to the amateur team of the week.

We want to hear about your Performance of the Week. Write to us at Team of the Week, News of the World, 1 Virginia Street, London E1 9BD.

We'll award a full kit to each weeks best entry - so remember to tell us your teams colours!

If you're not a winner you can order your kits direct from UK Sportsgear by phoning 01203 351276. You can also check out UK Sportsgear's website: http://www.uksportsgear.co.uk


Note: This competition is now CLOSED. Originally published weekly in the sports pages during1997/98 Football Season
---
---
---
---
---
---
---
---
---
---
---
---
---
---
---
---
---
---
---
---
---
---
---
---
---
---
---
---
---
---
---
---
---
---
---
---
---
---
---
---
---
---
---
---
---
---
---
---
---
---
---
---
---
---
---
---
---
---
---
---
---
---
---
---
---
---
---
---
---
---
---
---
---
---
---
---
---
---
---
---
---
---
---
---
---
---
---
---
---
---
---
---
---
---
---
---
---
---
---
---