...for the Military
UK Gear's training shoes were originally designed in association with the Royal Army Physical Training Corps (RAPTC). These elite fitness professionals were closely involved in the development and tested our products in some of the most inhospitable conditions on Earth. Only when approved by the Military do we consider our products... Built to survive.
Article in Mail on Sunday
>>10 August 1997
---
Kit Maker Wins Sporting Prizes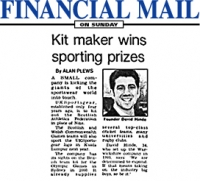 A SMALL company is kicking the giants of the sportswear world into touch.

UK Sportsgear, established only four years ago, is to kit out the Scottish Athletics Federation in place of Nike.

The Scottish and Welsh Commonwealth Games teams will also sport the UK Sportsgear logo in Kuala Lumpur next year.

The company has its sights on the British team kit for the Olympic Games in Sydney in 2000. It already supplies several top-class cricket teams, many universities and rugby clubs.

David Hinde, 34, who set up the Warwickshire company in 1993 says 'We are determined to expand. If that means taking on the industry big boys, so be it'.

---
---
---
---
---
---
---
---
---
---
---
---
---
---
---
---
---
---
---
---
---
---
---
---
---
---
---
---
---
---
---
---
---
---
---
---
---
---
---
---
---
---
---
---
---
---
---
---
---
---
---
---
---
---
---
---
---
---
---
---
---
---
---
---
---
---
---
---
---
---
---
---
---
---
---
---
---
---
---
---
---
---
---
---
---
---
---
---
---
---
---
---
---
---
---
---
---
---
---
---