...for the Military
UK Gear's training shoes were originally designed in association with the Royal Army Physical Training Corps (RAPTC). These elite fitness professionals were closely involved in the development and tested our products in some of the most inhospitable conditions on Earth. Only when approved by the Military do we consider our products... Built to survive.
PT-03 DESERT - Matt Roberts, (44) a serving Army Officer entered into the Marathon des Sables
>>26 May 2006
---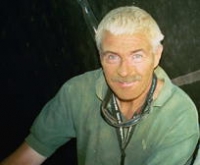 ...billed as the toughest footrace on earth, this is a 155 mile endurance race carrying all your food and overnight kit accross the Morroccan Sahara


Footwear was obviously a serious consideration and I had heard of the PT-03 through the military press and reasoned there must be some mileage in investigating further. The first pair of PT-03's were comfortable from the outset with a wide fit although I did have to take a half size bigger than the norm. As I was doing about 30 miles a week with a 12kg rucksack in the depths of a British winter, these shoes clearly had to made of stern stuff, I was not dissapointed.

After 5 weeks of this regime my mind was made up that these were for me, however, modifications needed to be made. These were one size bigger to account for my feet swelling in the desert and do I stop to empty the sand out or do I use some form of gaiter to prevent the sand from getting in. A new pair of shoes and an unbelievable training opportunity arose in the form of a 4 week deployment to Oman where I could train in my off duty time. By now I was up to about 50 miles a week in the Oman desert. It turned out that at 35 degrees C, this was not hot enough! The Sahara got up to plus 45 regularly. With some parachute material and an interpreter I had the modifications made to my shoes.

Gaiters were my choice, these were reinforced at the base, glued on and then sewn on. This was a good choice as it allowed me to grease my feet daily with no fear of the sand getting in and acting like an abrasive. By the time I started the race, my original shoes had completed about 800miles and were suffering, my large shoes had completed about 200 miles and were comfy as comfy can be.

The race is a whole chapter in itself with heat up to plus 45, humidity at 30% (the norm is 5%) and stages up jebels, accross volcanic rock scree and of course sand dunes. I did receive blisters on my heel but I think I would have got those any way whatever I wore. The shoes held up magnificently, they gave me sufficient support and remained a snug fit throughout the day (stage 4 was a 50 miler in one go, my shoes stayed on throughout with no alterations to the laces).

The shoes absorbed the rough surface of the volcanic rock although an old injury on the sole of one foot did flare up for a day or so. I finished in 50 hours or so, my goal never to compete, simply to complete. The winner for the ninth time was a Morroccan who managed 17.5 hours, an unbelievable feat. Now my originals after 800 miles are consigned to wearing for DIY as the sole tread is still in good order (although I did use them for the Stonehenge Marathon for their finale) and the pair I used for the race are not suitable for use in UK and anyway are too big for me.
Capt Matt Roberts
British Army

UK Gear Comment
Captain Roberts feedback on how well his PT-03's coped with the race helped influence our design decisions when making the even more extreme PT-03 DESERT with integrated sand gator. Click below for further details.

http://www.saharamarathon.co.uk

---
---
---
---
---
---
---
---
---
---
---
---
---
---
---
---
---
---
---
---
---
---
---
---
---
---
---
---
---
---
---
---
---
---
---
---
---
---
---
---
---
---