...for the Military
UK Gear's training shoes were originally designed in association with the Royal Army Physical Training Corps (RAPTC). These elite fitness professionals were closely involved in the development and tested our products in some of the most inhospitable conditions on Earth. Only when approved by the Military do we consider our products... Built to survive.
PT-03 - Lt. Col Peter Bates, British Army : Built to Survive... I'd say so!!!
>>16 February 2008
---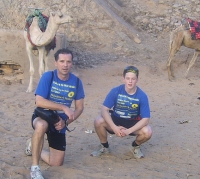 PT-03 NC Running Shoe taken on a 500km gruelling cycle trek from the edge of the Sahara desert over the High Atlas mountains.

By Peter Bates
Lieutenant Colonel, British Army

Firstly a very big thank you to UK Gear for being our corporate sponsor as a small group of us organised a 500km cycle trek from the edge of the Sahara Desert, over the Anti Atlas and High Atlas Mountains. We successfully raised awareness and funds for Alzheimer's.

A small of group of mainly UK military and ex-military used the PT-03 NC Running Shoe for build up training and on the cycle event. It was also the only footwear we carried so was also in constant use for mountain track climbing, camping, and normal travel and sight seeing activities. The consensus of opinion on its performance was high in every aspect we could think of. An idea of how we felt it achieved the tasks is given below:


TEAM REPORT ON SHOE

1. Versatility - 100%.
(Could be worn for all training, cycle event and at other times. It saved anyone carrying spare footwear.)

2. Robustness – 95%
(Not put through the paces to a great extent, but no damage or wear and tear on shoes …or feet)

3a. Comfort - for feet – 95%
(As comfortable if not more comfortable to wear than any other trainer, a little heavy but understand that is due to the robustness)

3b. Comfort – for temperature – 90%
(Cycling in temperatures of 30 degrees C during the day and resting at night at altitude with temperatures below freezing – shoe kept feet at a decent temperature throughout.

3c. Comfort - Fitting –100%
(Easy to lace up, comfortable straight from the box. No feet soreness throughout training or the trek. FAB!) Medium (Laces easy to pull tight).

4. Maintenance – 90%
(The grip on the soles did not fill up with mud and sand, dust etc. did get onto socks, the shoe can be easily washed and dried.)

5. Medical aspect. – 100%- 70%
(I have had to have orthotics specially built for my feet. These easily slipped in to replace the UK GEAR insoles, I found the shoes perfect for all my (medical) needs) – 100%

(The doctor in the group agreed with the comfort and support aspects) – 100%

(Sebastian managed to wear down one side of one heel which (after the trek) has begun to make his knee ache – he feels, so he no longer wears the shoes for training) – 70%

UK Gear note: to see Peter's son, Sebastian's review click here.
---
---
---
---
---
---
---
---
---
---
---
---
---
---
---
---
---
---
---
---
---
---
---
---
---
---
---
---
---
---
---
---
---
---
---
---
---
---
---
---
---
---