...for the Military
UK Gear's training shoes were originally designed in association with the Royal Army Physical Training Corps (RAPTC). These elite fitness professionals were closely involved in the development and tested our products in some of the most inhospitable conditions on Earth. Only when approved by the Military do we consider our products... Built to survive.
Review from Sgt Tanner, Fort Benning
>>03 January 2012
---
UK Gear,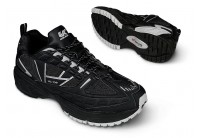 Bought a pair of your XC-09 cross countries in August after weak-sauce Nike's fell apart. Found them at the Fort Benning PX. All I can say is they are hands down the must rugged, high-speed pair of shoes I've ever owned! Tough as s**t and hell of some traction. Tread is so damn deep, I'm fairly sure if I was inclined to dig a two-man foxhole with grenade sumps, I could do it using the XC-09. Shoe is badass!

Since this August I have ran my pair thru saturating Georgia humidity and the egg-frying Oklahoma sun. Shoe has held up remarkably thru all the nasty s**t I could find. Sand, gravel, hard ball, Oklahoma red clay, up hill, down hill, hot, cold, ruck-runs and rain, these shoes have performed flawlessly. If I could find some lava to run on I'm confident they'd hold up.
Currently I'm serving out some voluntold time as recruiter for the U.S. Army. I recommend no other shoe to Future Soldiers waiting to ship to Basic Training.

Damn fine work UK Gear!

SGT Tanner

p.s. Starting in January, a few of the guys in my recruiting station are gonna start training for a 50k run. If you need some test subjects to punish your 1,000 mile shoe, we would be honored to do it.
---
---
---
---
---
---
---
---
---
---
---
---
---
---
---
---
---
---
---
---
---
---
---
---
---
---
---
---
---
---
---
---
---
---
---
---
---
---
---
---
---
---