...for the Military
UK Gear's training shoes were originally designed in association with the Royal Army Physical Training Corps (RAPTC). These elite fitness professionals were closely involved in the development and tested our products in some of the most inhospitable conditions on Earth. Only when approved by the Military do we consider our products... Built to survive.
Stew Smith, former Navy Seal Trainer and Fitness Instructor
---

Meet Stew Smith - Navy SEAL Trainer
As a Naval Academy graduate and a former Navy SEAL, Stew Smith has worked professionally in the military fitness arena for over 15 years focusing on a specialty of helping people become Navy SEALs or any other member of a unit that requires a PFT. Of course many of Stew's clients just want to lose weight and keep it off... Stew can do that too. He has trained athletes in College, Olympians, and Professional Sports (Hockey and Baseball). Stew Smith is certified by the National Strength and Conditioning Association as a Certified Strength and Conditioning Specialist (CSCS).
Stewart 'Stew' Smith is a former Navy Lieutenant SEAL who graduated from the United States Naval Academy in 1991. After almost eight years in the SEAL Teams and an instructor at the Naval Academy Physical Education Department, Stew resigned his commission in 1999 to start his own fitness and freelance writing business.
Fitness has been apart of Stew's life from grade school, through high school and college, and today. Currently, he trains young men and women for any profession that requires a physical fitness test, from law enforcement to military special-forces. Stew has been labeled the Personal Trainer to the Heroes of Tomorrow and recently launched www.heroesoftomorrow.org. This site is a tribute to fallen heroes and assists future heroes to train for any physical fitness test in the military and law enforcement agencies. Read about the Stew Smith Online PT Club for online personal training.
He is actively involved with the Naval Academy Admissions recruiting programs and performs a military style workout with over 1,800 midshipmen candidates annually at the Naval Academy Summer Seminar program.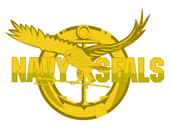 A majority of his clients are regular people who wish to lose 50-100 pounds and just get healthy. These are the clients that offer the most reward and need the most personal direction. He has been able to reach these clients through his website www.stewsmith.com and create programs to fit their lifestyle. His online fitness training and local personal training bring people to Maryland from all over the United States to take part in his weekend fitness clinics.
He is the author of five fitness and self-defense books geared toward military fitness and is also an expert on how extreme temperatures affect human neurophysiology and muscular-skeletal anatomy.
---