Our design alliance.
UK Gear have a unique association with The Army Physical Training Corps, the elite fitness professionals of The British Army. They are closely involved in the development of our products before wear testing them in some of the most demanding conditions on Earth. Only when approved by The British Army do we consider our products... built to survive.
Mike Buss... Beyond Impossible
---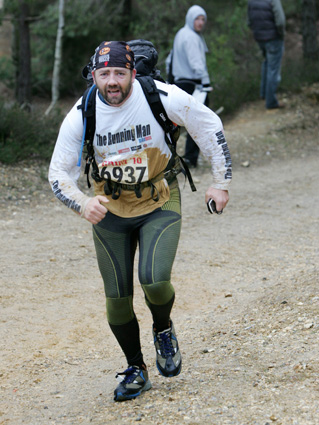 Mike Buss – The Running Man is a multiple world record breaking professional ultra marathon athlete. In 2010 Mike broke 14 world endurance records including running the greatest distance on a treadmill in 7 days clocking a distance of 517.25 miles and also ran the most back to back marathons, running 100 marathons in 100 consecutive days.

In 2011 Mikes challenges will be his biggest yet! February 2011 will start with Mike becoming the first person to ever run across the English Channel in a WOW Ball, the 22mile run from Dover to Calais will be like running over 75miles in a sauna.

Then in March, Mike will start a 3200mile run in 120 days from the freezing Arctic of Canada to the deserts of Morocco & Death Valley made up of the toughest foot races on the planet...
Starting with the:
HERO 100 USA (100 marathons in 100 days)
Mike is an ex-Army Physical Training Instructor with The Royal Green Jackets who was injured by an IRA Car Bomb leaving him deaf in one ear and eventually medically discharged. After finding civvy life tough Mike ended up on the streets homeless for 5months, but it was another UK Gear Athlete 'Paddy Doyle' that gave Mike the inspiration and positive drive to live again, it was only a couple of months after leaving the streets that Mike challenged himself to his first of many world records to come, it was the London Marathon 2002 where he broke (unofficially) Paddy's world record for carrying a 55lbs pack over the marathon course by 12mins in a time of 4hrs 52mins 21secs.

Mike in just 1year of turning pro at the beginning of 2010 has made a name for himself in the Ultra Marathon World by becoming the UKs highest profile Ultra Athlete and being hailed by the press as the next Dean Karnazes. UK Gear are proud to support Mike Buss, The Running Man.
"The PT-1000 is the only shoe that will go the distance for me! It keeps on running when all other shoes fall by the wayside" - Mike Buss, The Running Man.


---
Awards:
- 2010: Wiltshire Man of the Year
- 2010: Wiltshire Life Magazine Lifetime Achievement Award Runner Up
- 2010: Swindon Pride Award Winner
---