...for the Military
UK Gear's training shoes were originally designed in association with the Royal Army Physical Training Corps (RAPTC). These elite fitness professionals were closely involved in the development and tested our products in some of the most inhospitable conditions on Earth. Only when approved by the Military do we consider our products... Built to survive.
Mark Cockbain, Ultra Runner
---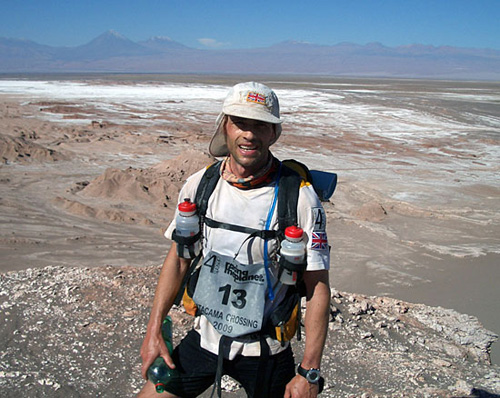 Mark Cockbain has recently been competing in the Atacama Crossing in Chile where he proudly wore the PT-03 DESERT shoes. He finished 7th with a time of 36hrs 19mins. The Atacama Crossing is part of the 4 Deserts, named by TIME magazine as #2 on its list of the Top 10 Endurance Competitions in the world! http://www.4deserts.com/atacamacrossing

About Mark Cockbain, by Mark Cockbain... 

I started seriously running in at the end of 1996 to train for the 1997 London marathon... but unfortunately I didn't get my entry accepted. 

I ran the Paris marathon instead, and then I got the running bug and went on to complete more marathons including several London marathons in the following years. I've now ran over 150 marathons. I then decided that I needed a bigger challenge, so I entered the 2000 Marathon Des Sables (MDS) and I started running ultras to train for this. I successfully completed the race in 32 hours, finishing in the top 100.

 More ultra races followed, including the Jordan Desert Cup, Comrades, and the classic London to Brighton. 

In 2001 I ran my first Grand Union Canal Race, a 145 mile non-stop ultra from Birmingham to London, which I have gone on to finish four times now, with my best time being 34 hours and 44 mins.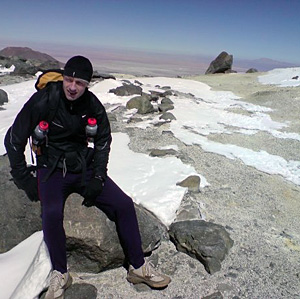 After this I wanted to see if an amateur runner like me could finish the hardest ultras in the world and I set out to enter them all.
One of the hardest races is the Spartathlon, a 153 mile non-stop run from Athens to Sparta, and I have managed to finish this race five consecutive times to date. My best time for this race is 34:23.
 
The Yukon Arctic Ultra was another challenge, where I ran 320 miles non-stop, in temperatures as low as -40C. I finished in 6th place overall.
I love desert running, and I once ran 333km (over 200 miles) non-stop across the desert in Niger, Africa to complete the Trans 333. I finished in second place. One of my proudest achievements was when I completed the Death Valley 300 (Double Badwater crossing), becoming only the 20th person in the world to do this. I have now completed the Badwater Ultra race four times.
Recently I completed the Thames Ring, which is the longest ever non-stop ultra staged in the UK. The route was 250 miles long along rivers and canals. I finished in 5th place. I have many more challenges ahead, and soon I will be attempting to run from John O Groats to Lands end in the JOGLE race, running around 55 miles per day for two weeks.
Then in 2011, I will be one of several competitors in the Trans USA Race. An epic 3,100 mile race from Los Angeles to New York in 71 days…

Useful Websites:
http://www.markcockbain.com
---