...for the Military
UK Gear's training shoes were originally designed in association with the Royal Army Physical Training Corps (RAPTC). These elite fitness professionals were closely involved in the development and tested our products in some of the most inhospitable conditions on Earth. Only when approved by the Military do we consider our products... Built to survive.
Ian Sadler, Podiatrist
---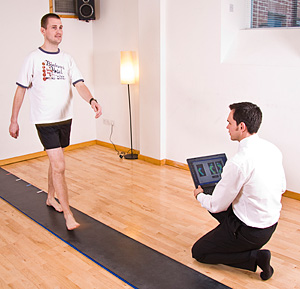 Ian Sadler BSc (Hons) Ch (DPodM) MChS, is one of only a handful of truly specialised podiatrists. He has a unique knowledge among podiatrists of gait analysis as well as orthotic and footwear sole materials. He is registered with the Health Professional Council.

Ian is the Podiatric and Biomechanics Adviser to UK Gear, working with them to provide the optimum materials and function to keep your feet and legs working correctly. He also helps UK Gear customers with their aches, pains and general sporting issues through his blog.

Ian spent five years in the British Army as a Combat Medical Technician, the army's equivalent of a paramedic. During his medical training he specialised in orthopaedic and accident and emergency care. After this initial period of training he moved to an air mobile medical regiment where he cut his teeth in the field of army medicine and moving casualties by air. This regiment was then amalgamated with the airborne role and Ian was selected to raise the flag for the new regiment, though unfortunately he didn't get to keep the old one!

Ian then volunteered to undertake P-Company, an arduous seven week physical build-up, followed by a week of rigorous physical tests to select those suitable to go on to be paratroopers. After achieving his parachute wings and serving six months in Bosnia as an Ambulance Detachment Commander, Ian was invited to apply for officer commissioning. However this would have meant stopping his medical work so he opted instead to volunteer for Medical Troop selection, a four week physical and mental challenge. Those selected work as close medical support to UK Special forces (UKSF). On completion of this course Ian became an instructor on Medical Troop selection and went on to work with UKSF, most specifically the SBS, 22 SAS and the Pathfinders, for his final two years in the Army. Some of this time was spent in Afghanistan working with a team to pioneer air mobile surgical facilities.

Ian still works with the army as a Medic and Physical Training Instructor (PTI), as well as running the recruit training program with the Territorial Army's 254 Medical Regiment in East Anglia.

Upon leaving the army Ian studied a degree in Podiatry (yes, a degree in feet!), looking at all aspects and medical implications resulting from, or acting on, the foot, leg and spine. Ian specialised in materials used in orthotic (insole) therapy and footwear manufacture. After working for the NHS, Ian was employed by one of the UK's leading analysis and podiatric technologies companies to design a medical diagnostic clinic and help pioneer the use of foot pressure analysis in clinical use. After four successful years he left this company to start his own patient-focussed medical clinic and he remains an orthotic consultant and lecturer in clinical interpretation of foot pressure technologies.

Ian now runs the Norfolk Biomechanics Clinic, based in Norwich, finding the cause of your pain to give the right treatment for long term resolution. He has worked with various professional sports teams, including Ipswich Town Football Club and Northampton County Cricket Club, to reduce the occurrence of overuse injuries in the knee, calf, foot and back. He has also not stopped working with the military; he has been involved in the rehabilitation of troops injured in Afghanistan and Iraq, as well as advising on the development of biomechanical measurement protocols, used to reduce injuries for troops going through basic training. This protocol has significantly reduced pains like shin splints, knee pain and plantar fasciitis.

Ian has always been a keen sportsman, playing national junior, senior county and army-level water polo. He represented his regiment in rugby, football, cross country and steeplechase. Whilst at university he was a tri-athlete and a keen runner. Running is now his main sporting activity, concentrating mainly on 10k events and training with a local running club. "It is so simple - just put the right trainers on, head out of the door and you are running - time to clear your head, think and just let your body take you".

Useful Websites:
http://www.norfolkbiomechanicsclinic.co.uk
http://www.apma.org
http://www.epodiatry.com

British Podiatry Society - http://www.feetforlife.org
---